I attended said school this past weekend, and learned a lot about the G6. Im not a big fan of drag racing, and I've been autocrossing for a couple of years with the G6 and I've gotten bored of that. The PDS is held about 10 minutes from Texas A&M (where I go to school), so its nice and close. I was able to work/drive, so I worked a corner flagging on Saturday then drove and received professional instruction on Sunday. Normally its about $200 per day.
The G6 is a heavy mother effer. Its not a great car to take to an autocross, though I have been consistently in top 10 finishes in the 'novice' class beating much more suitable cars. The heaviness isn't as apparent on a full size track. This was also the first time I had to actually worry about oversteer under braking too. The rear tires stay put on a tight auto-x track but at higher track speeds its something to worry about even with our long wheelbase. I was hitting 125 or so on the front straight, and the car never missed a beat. The F40 6 speed manual really just now seems to be braking in for me. My only real problem was brake fade, which I knew would be a problem since it even shows its ugly face at auto-x. Cobalt or Saab brakes should fix this soon. Overall, it was a ton of fun and the G6 honestly surprised a lot of people at the track. Definitely got a lot of "much better than grand am" comments. My favorite part of the day was when I passed a early 2000s Cobra Mustang and a C5 Corvette. One driven by someone very new to racing, and another by an older guy who was being a sissy. Either way, I give myself a
Pictures:
I was number 39 for 3.9L
Front straight
180 * decreasing radius turn entry
Here Cobra cobra cobra....
This shows how off-camber this turn entry is. Very easy to induce oversteer and end up in the dirt. Stabilitrack was nice to have.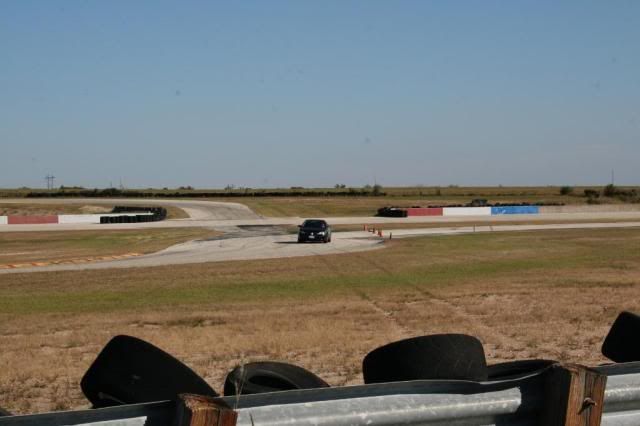 Here Im about to get passed by a GTO with a complete Holden Monaro conversion.
Everyone should give this a shot if you have some tires you want to ruin. Its a blast.