Hey there people. I'd like to present the progression of my Emerald Green 2006 Pontiac G6 GTP Automatic Sedan.
[see below for details, G6 has been sold]
I've had this car and been a member since Feb '07, and I freakin' love my car. First car was a White '91 Buick Park Avenue Ultra (smooth ride) - A/C broke and traded in on a Champaign (or gold?) '01 Hyundai Elantra (custom sound system, good mpg) - I got tired of almost getting hit moving in Houston traffic and traded it in on the G6 which is a beautiful, sexy, and (relatively) powerful automobile. I am now in my 5th year of ownership and as of this writing, owe $2.64 on it. yes... two dollars and sixty-four cents... seems like they could've rolled that into my last payment, but oh well. I'll try to leave all updated pics on the first page for convenience.
Here is the G6 days after purchase. Stock. Started life in the California Hertz rental fleet.
First items I bought were not only stylish, but practical.
Bug guard to cover up the ugly rock chips inflicted by angry renters on gravel roads, Power Slot rotors and Hawk HPS pads to replace the tired and warped brakes, and American Racing black 18x8.5 Rogue wheels. Also applied a "PONTIAC" decal to the rear window and installed black painted upper and lower recessed grills.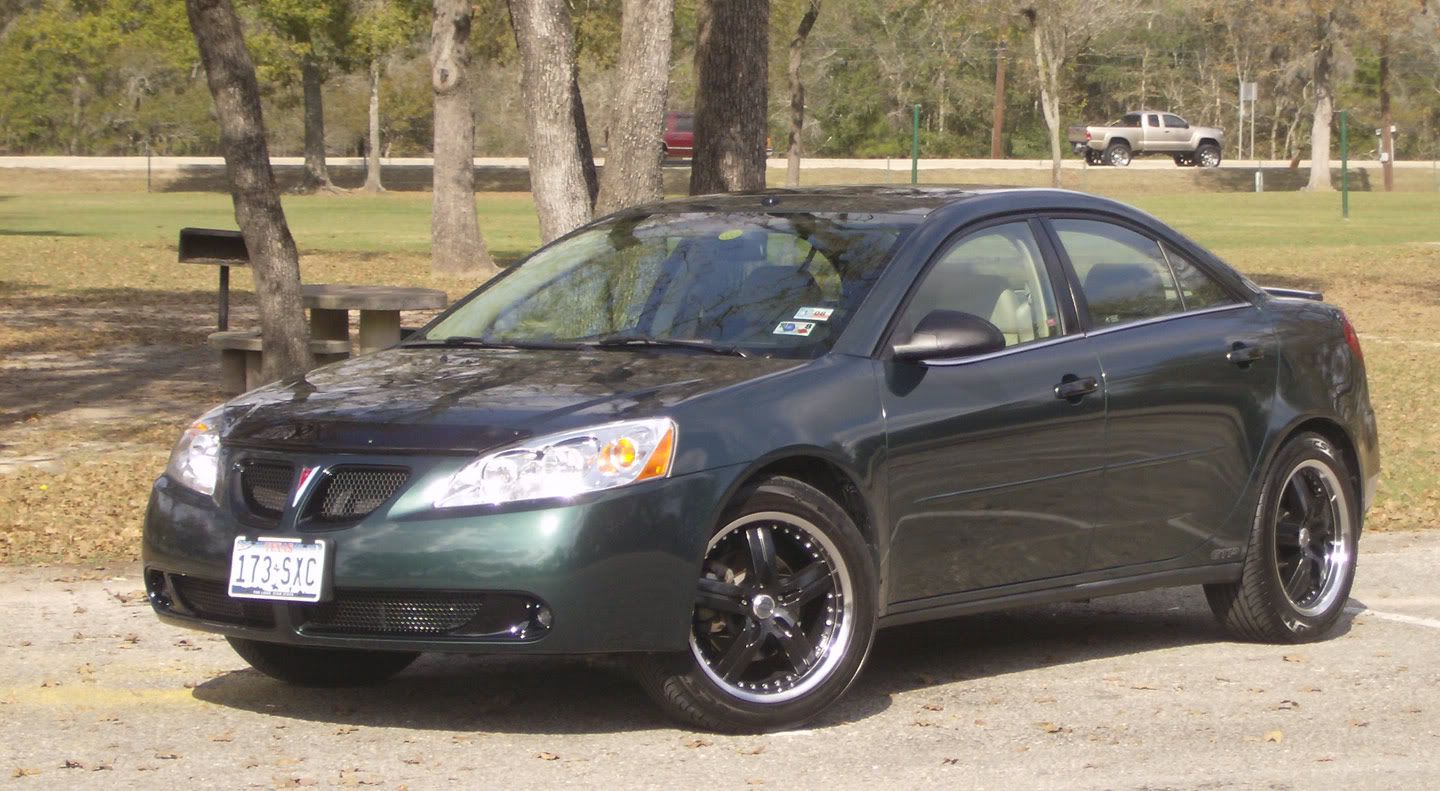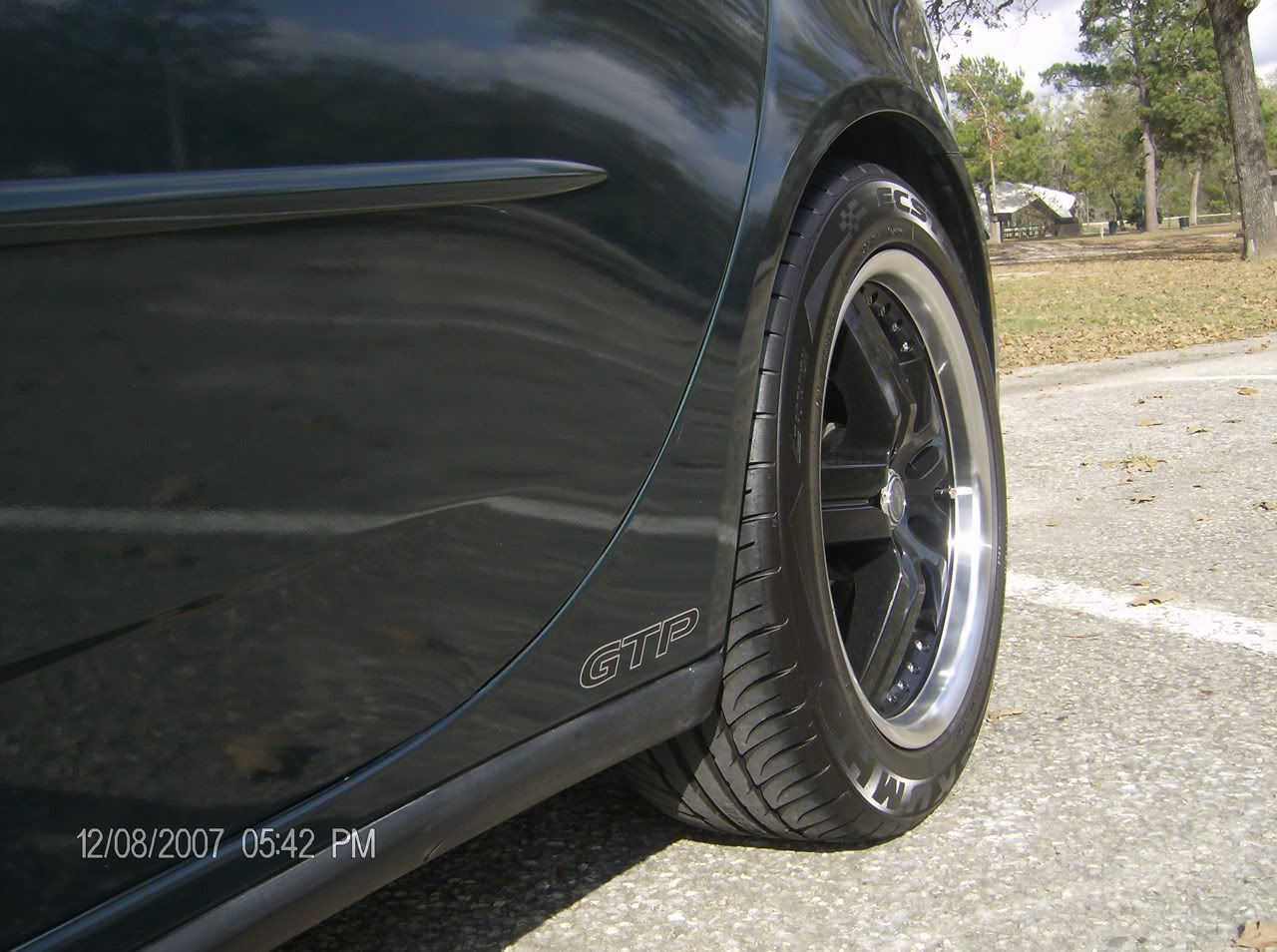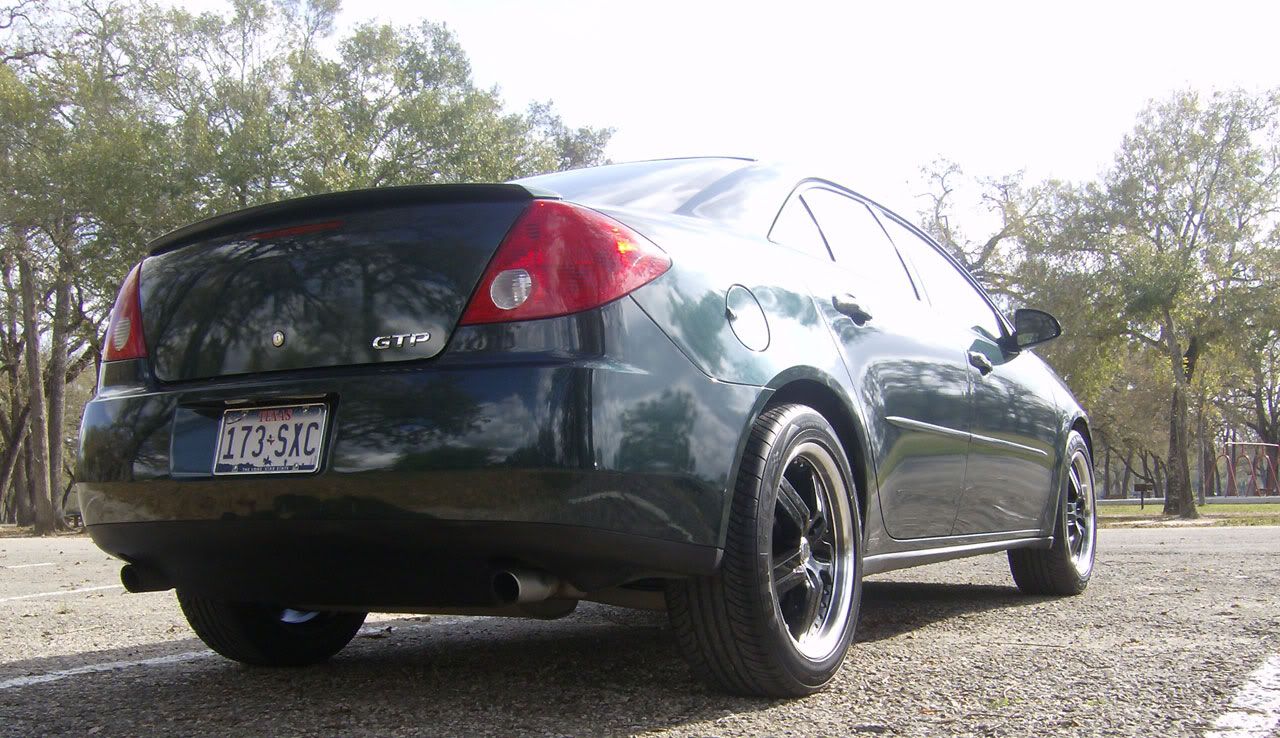 Then I bought one of the last Dr. Speed intakes, a 93 octane Vector tune (ECM & TCM), and a Malibu SS strut tower bar. More pics of the outside.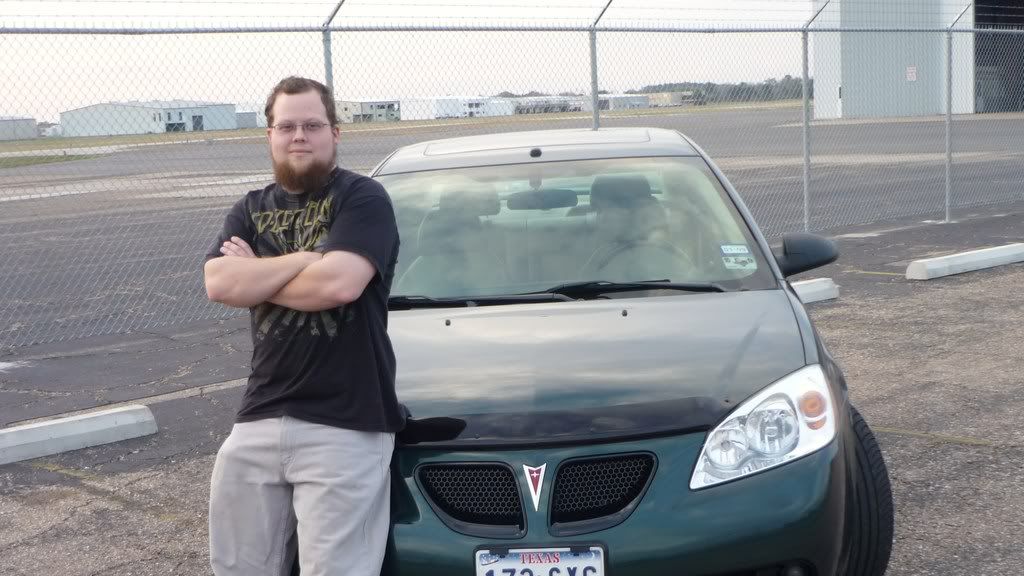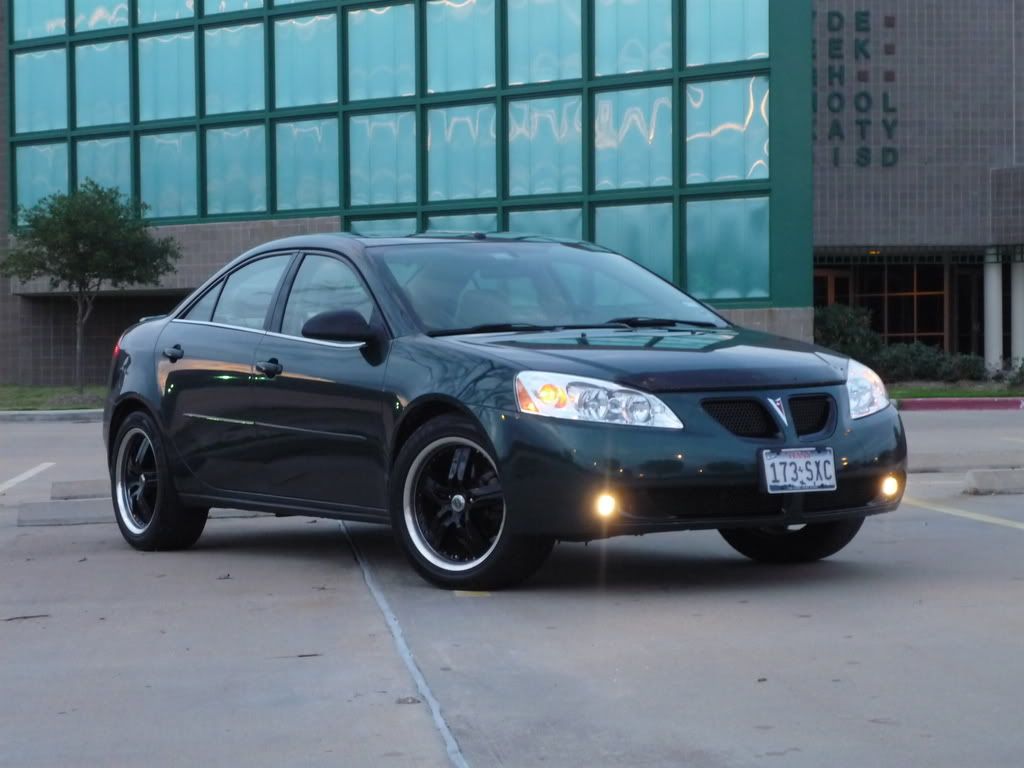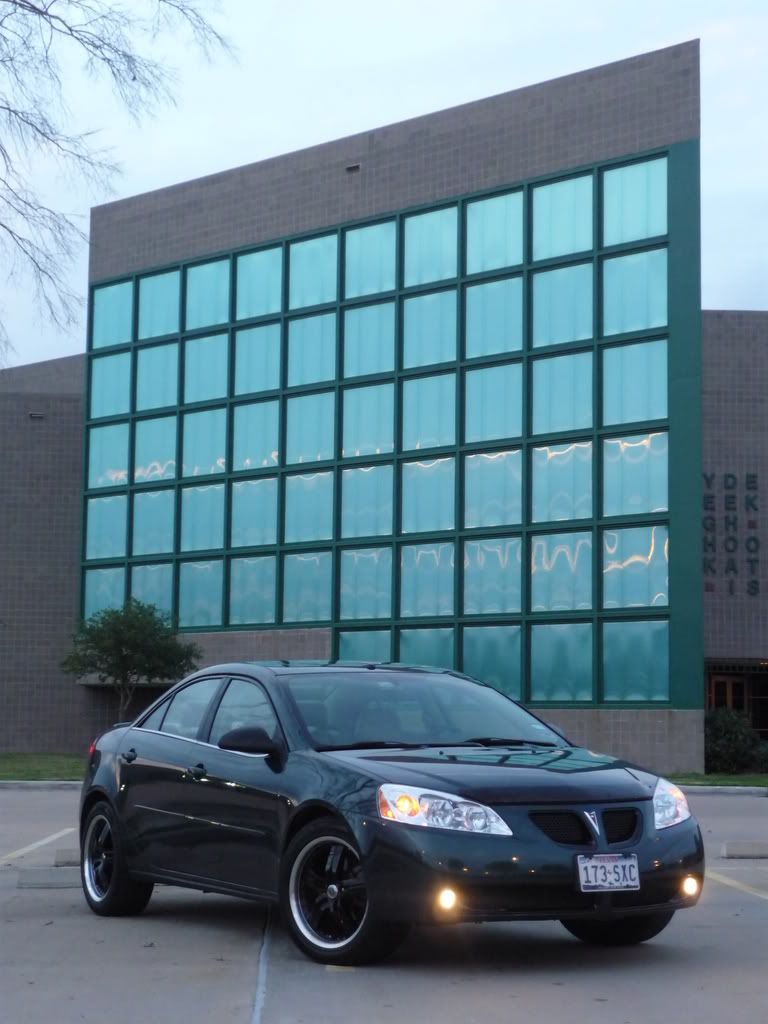 Got into my 4th accident with this car(this time it was my fault... atleast 50% my fault anyway, lol) and took the opportunity to have my MPD hood painted and installed. Not that I'd want it with a ram air hood, but GM no longer makes the bug guard. I was trying to save my money to buy a GT-R exhaust, but when I found out he doesn't do that anymore, I went to a local exhaust shop and had my muffler deleted and a Y pipe put in it's place. it has a really nice sound on the 3.9 imo. I'll upload video later. With all mods I currently get 18-19 mpg mixed driving.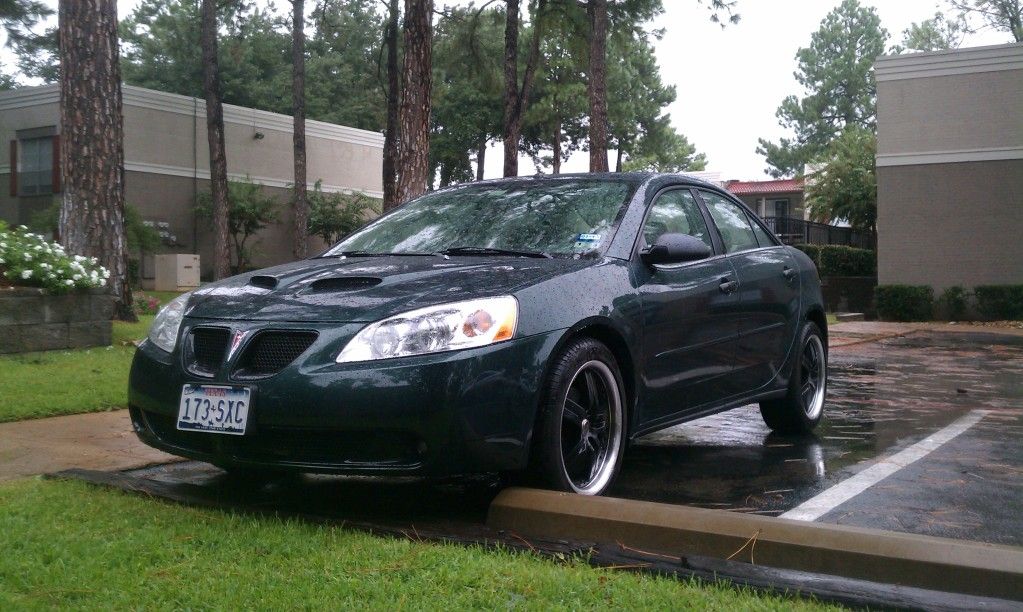 Muffler deleted and replaced with Y-pipe. Stock resonator intact and in place; stock tips.
http://youtu.be/-lNmAdlr2jM
Bought replacement wheels because I had a crack in my AR's. I was going to have them professionally restored, but nobody would touch them because of the fake plastic rivets. Could not find any matching AR's on eBay after weeks of searching, so I bought a new set of Gunmetal Enkei EKM3's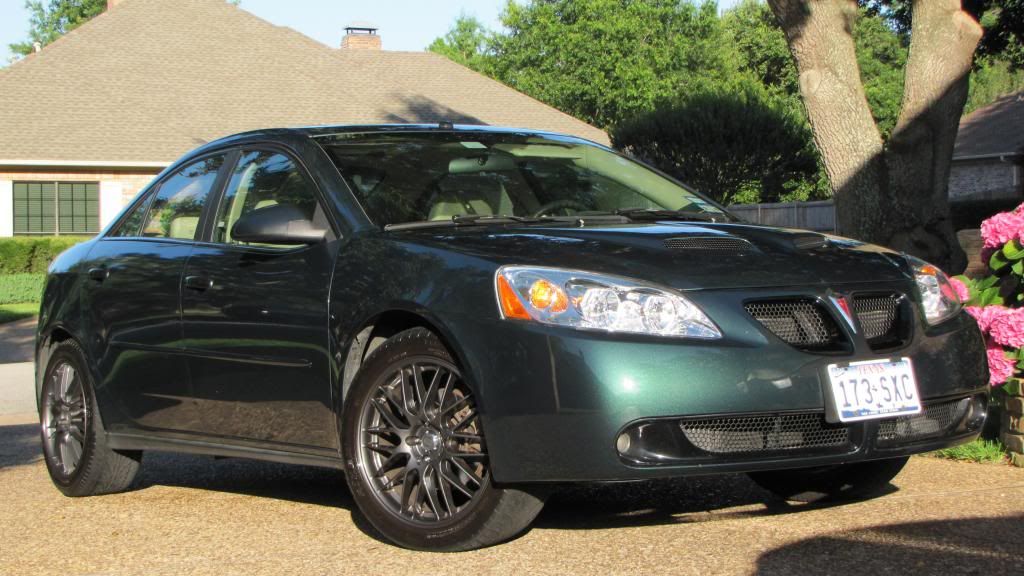 Twice the G6 has been in the shop for transmission work. First time in Jan '12 a forward band and clutch pack were replaced because the car wouldn't move in first or reverse gear. Just earlier this month, Sep '12, I took my car back in under repair warrantee because I couldn't move in reverse gear again. This time they replaced 3 bands, 1 clutch, and 20 plates. Needless to say it drives like it has a new transmission. I did't know how bad it was until they fixed it. Shout out to Hall Buick-GMC-(formerly)Pontiac in Tyler, TX for taking care of me.
Mods Done:
American Racing 18x8.5 Rogue wheels - broken wheel, replaced with:
Enkei EKM3 18x8 in Gunmetal
Power Slot Rotors and Hawk HPS pads
Malibu SS strut tower bar
Vector TCM and 93 Octane ECM tune
Dr. Speed Full Cold air intake with box
Recessed grills upper and lower painted black
MPD Ram Air hood
Muffler delete, Y pipe installed
Saab 9-3 hub shims
BMD Stainless Steel Brake Lines
BMD Front Endlinks
Racingline Grounding kit
Mods waiting for install
(have parts):
Redline Quicklifts Elite
Eibach Lowering Springs (reconsidering)
Racingline Motor Mount Inserts
------------------------------------------------------------
The engine in my G6 seized and was going to take a lot of money to fix properly. I could have half-assed it, but decided that the job really should be done right and by professionals. I was unsure how long it would take me to save the money needed for the repairs, or if it was even worth the cost to me. The repair bill would have been more that what I eventually sold the car for! Therefore when the chief mechanic at my regular dealership offered to buy it, I eventually took him up on it. Unfortunately I ended up selling at my bottom dollar, but at least this guy was going to fix it and drive it again. Months later, it's still sitting, unrepaired, at the dealership. Same dance, different dancer.
All in all, my time with the G6 was enjoyable. And though
I
will have fond memories, my friends and co-workers are glad that the "green demon" is off the road! Time to find new ways to terrorize the neighborhood!